There is childlike enthusiasm — a twinkle in Sivakarthikeyan's eyes when he talks about his projects. Now a formidable star with a box-office track record in place, Siva's celebrity status, seems to have not affected the innocent charm the actor is famous for. But behind that, there is also a clear understanding of his space in Kollywood, where he aspires to be and the kind of films he wants to do. Here are the excerpts from an exclusive chat with  Sivakarthikeyan ahead of his film Velaikkaran.
We hear that you have three looks in the film.
I didn't know this myself! Rather than looks, the film has three different colours and by colour, I mean the characterisation. But I have only two looks in the film, the one you see in the posters — one is slightly more rugged with a beard while the other is a bit formal.
You have mentioned several times that Velaikkaran brought you out of your comfort zone. Can you elaborate?
In Velaikkaran, the focus isn't on comedy — something I do well. I had to comprehend Mohan Raja sir's idea, thought and vision and fall into that. Otherwise, there would be no point in the year he has invested in writing the script. Right from the way we discussed the shots on spot, the emotions and even the action sequences felt new.
Your journey from the boy-next-door to a bankable star is quite a story. Did your star status lead to stepping out of comfort zone personally as well?
Definitely, I have been promoting Velaikkaran for some time now. One thing people ask me is that 'you were quite the live wire, but now you are calm, quiet and composed'! Apart from that, I don't think life has changed much. I still go to the same places I used to frequent and have the same friends that I used to have. Maybe, my house and car are the only things that have changed!
In an interview, you said that you desire to be looked as an actor who can play any role. But you have an innocent, 'namma paiyan' kind of an image. Would you consider negative roles?
No, I can't. Whether it is Remo, or Velaikkaran's Arivu or the character in my next movie with Ponram, my characters have to be likable. When you want to reach the larger audience through a commercial channel, only small variations can be made. I want to be versatile in that space. Right now, I don't think negative characters are possible. There are a lot of children who watch my movies. Also, I am getting a lot of positive scripts right now, so why not pursue that path?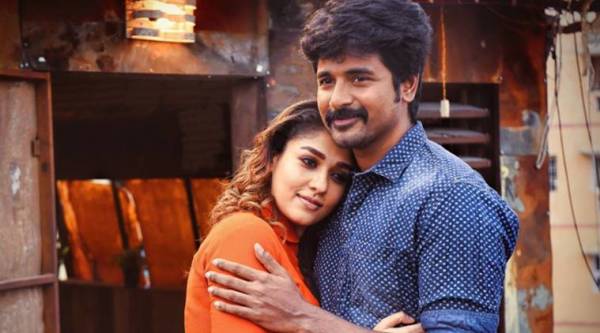 But do you have the desire to do such stories, maybe in the future?
It depends on the script. If the story doesn't have a negative impact on the children and audience who watch my film, I can do it. It is a decision that I have to take consciously. I can't just do something because it is new.
You have mentioned that Velaikkaran is your upper limit for content-driven cinema. How are you planning to experiment?
With genres. As there are limitations in terms of the characters, my idea is to dabble in different genres. Down the line, I want to be in a position where audience can see me in a role that is more intense than Velaikkaran and can also see me in a laugh riot. I have a science-fiction film in the pipeline. As someone who hasn't watched a lot of Hollywood sci-fi films, this is unchartered area for me. When the canvas and colour around my character changes, that is an experiment for me.
Sivakarthikeyan in a science-fiction film is quite an interesting combination for us as well. Why sci-fi?
It excites you right. It excited me as well and I believe it would excite the audience as well. I had really liked Ravikumar's Indru Netru Naalai and had called up to wish him. He wanted to narrate an idea to me then. So we met the next day and I really liked his concept. How would it be if Sivakarthikeyan did a sci-fi film? The script was designed for me. So I locked the story and asked him to work on the screenplay.
Is there a genre that you are dying to do a film in?
A kids fantasy film. I watch a lot of animation films and it is a genre that I immensely enjoy. There is another reason as well. The first movie that lured me towards cinema was Rajini sir's Raaja Chinna Roja. There is an animated song in the movie. That song is one of my earliest memories of my childhood. More than an animation film, I would love to do a fantasy film.
You have a non-celeb background. From scouting opportunities to getting scripts written for you, it must have been quite a moment.
It is a very happy thing. Fortunately, that started for me from Ethirneechal. The director only had a storyline when I came onboard. The script was written keeping me in mind; a few elements were added, emotions were structured for me. While Varuthapadatha Valibar Sangam's script was changed for me, all my other films had scripts written for me. When people tell me that writing for me requires a few special elements, it definitely makes me happy. If stories like these are successful, it will lead me to do more different stories.
In a short span, you have become a star. Has the additional responsibility changed your script-choosing process?
The characters I play onscreen should have things that audience like. More than searching for an untold story, I look for ones that are likeable — the scope they have for songs, humour, how much scope other artistes have, these things increase the chances of the film being liked by all.
Speaking about other artistes, Velaikkaran also has Fahadh Faasil. Quite a name in Mollywood, interestingly he has chosen to debut in Kollywood as an actor and not a hero. Tell us about your equation with him.
With Velaikkaran, the content is the hero. We are all just characters. Fahadh has a very important role in the film. It is amazing that he chose to see the story and the character. His decision to come onboard was immediate. He agreed as soon as he heard the story. Fahadh has a lot of dialogues in the film as well. But the language barrier never stopped him. He put in more effort to learn the language even better and speak it fluently.
We always have a habit of classifying our heroes into one who chooses commercial subjects and the one who does everything. While you have admitted that you belong to the former category, have you ever wanted to be on the other side?
I can only reciprocate what the audience expects. Cinema for me, is responding to their expectations. Adhaye kudukanum aana adhey madhri kuduka kudathu. (You have to give them what they want, but not the same thing). That's the only thing on my mind. I have never thought of crossing over. Maybe if I get a script that will address a niche audience, I will not do it in this scale.
This was first originally published on https://indianexpress.com/. You can find it here.