When Raashi Khanna was called to audition for her debut film Madras Cafe, she ran away from it. "I was too scared. I wondered why they would choose me as I didn't know much about cinema. It came to a point where the casting director had to directly call me and persuade me with a separate slot, in case I was too shy," recalls Raashi. She did give the audition and a week later, the young actor got a call saying that she had bagged the role. "I don't know how, maybe I just had it in me. When I saw myself for the first time and saw how people laugh or cry for my character, I realised that this is the best profession to be in. One has to be honest to the character."
Her Bollywood debut caught the eye of the makers of Telugu film Oohalu Gusagusalade. The actor entered the Telugu film industry without knowing the language. "Learning Telugu was scary. I had a friend who knew Telugu and my director was good with Hindi. I used to get my lines translated into Hindi as they made more sense. There was a lot of rehearsal and prep before a film," says Raashi.
After four years and several Telugu films, Raashi Khanna can now speak Telugu comfortably. That gave her the confidence to enter the Tamil and Malayalam film industry. Even without a release in Tamil yet, the Srinivasa Kalyanam actor has several projects in the pipeline. She also recently made her debut in Malayalam with Mohanlal's Villain. "I usually go with the flow, I didn't really plan on entering any industry. For me, it was all about cinema. I'll go wherever it takes me. It depended on the scripts I was getting and I just happened to like the Telugu scripts more at that point."
Imaikkaa Nodigal will be Raashi's first release in Tamil. She shares screen space with Anurag Kashyap in the film. Having never 'learnt' cinema, the different sets and the actors she worked with became teachers for Raashi. "Having a stellar cast makes sure the film reaches a wide audience and there's also a lot to learn from them when you act along. While I didn't have scenes with Nayanthara or Vijay Sethupathi, I have scenes with Anurag Kashyap and we discussed a lot of cinema. There was a lot to learn from him. He seemed scared at first but when I saw him in the trailer, I was blown away," says Raashi.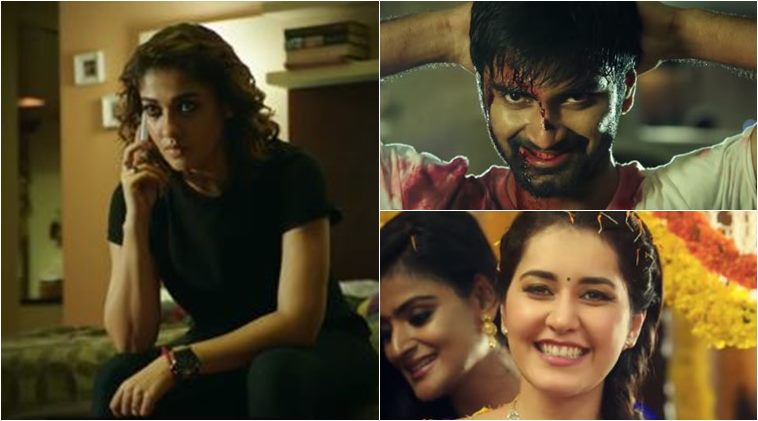 Apart from Imaikkaa Nodigal, Raashi Khanna has Shaithan Ki Bachcha with Siddharth, Adangamaru with Jayam Ravi and the Temper remake with Vishal. While several would be starstruck, Raashi claims to be a 'secure actor'. The actor reveals that she always sees what she can learn from her co-stars. Her Villain co-star Mohanlal is brilliant with his eyes, states Raashi. "He can just show his eyes and conquer the screen. He always says don't do anything extra, just feel the character and it will come. Coming from the Malayalam sets, when I went to Telugu, people told me that I wasn't acting and that it felt dead. It was very subtle in Malayalam while it is slightly dramatic in Telugu. It is quite fascinating to understand what each industry expects of you and work according to that."
From running away from her first audition to being secure with the likes of Anurag Kashyap, Mohanlal or Siddharth is quite a transition. Ask her how the evolution happened, Raashi explains that her efforts give her room to be sure about her space. "There is only so much you can do. You can work hard and give your heart and soul to whatever you do. Once you do that, there is no room for insecurity. There is nothing else you can change — only yourself."
Telugu films feature Raashi Khanna mostly in girl-next-door roles but the young actor is quick to state that she doesn't want to be stereotyped. "I would be more than happy if I am pushed out of my comfort zone. I understand that being born with a certain face, people want to see me in certain roles. But one needs to break that image by doing different kinds of films. In Malayalam, I did Villain where I played a tough cop. People took it seriously because they had no image of me from Telugu." The actor hopes that she would be able to do the same in Tamil, where there are no expectations from her. "I don't want people to define me. That's the best way for an actor to grow. It is not that I only want to do serious roles. Why can't a girl do everything?"
This was first originally published on https://indianexpress.com/. You can find it here.